The one piece swimsuit was originally worn by men – not women
GENTLEMEN, this might get your knickers in a twist, but a line of men's swimwear is apparently hitting all the right spots right here in Australia!
A male version of the female one piece has been so popular that makes it inevitable for the expansion of the one piece swimsuit for him!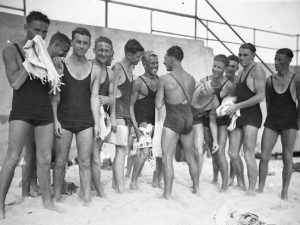 The male one piece version of the female has been described as multi-functional & masculine. Some even were it as an undergarment.
Just throw a pair of jeans on and go, even smart casual pants, top it up with jacket if you get a bit chilly!
The one piece was originally designed for men in the early 1900's… Yes it was worn on Bondi Beach by many guys as shown in image
When a woman by the name of Annette Kellerman was spotted wearing a boy leg well conservative one piece, she was arrested for indecent exposure for it was a man's swimsuit, so the one piece maillot /swimsuit was a Men's maillot not a women's as it is today! We have gone a step further and added a whole new age ONE PIECE SWIM SUIT FOR HIM in our Men's Collection, if you are after a more daring one pieces for men then check out the rest of our range, the thong/ G/ Brazilian/ backs & join the tribe :)
So Gentlemen lets get back to wearing a one piece and create some hype!!!!
Showing 1–12 of 14 results